Knastgeschichten
...für ein neues TV-Format junge Ex-Häftlinge, die bereit sind, ihre spannenden Erfahrungen und Erlebnisse aus ihrer Haftzeit zu schildern. Du warst schon mal im Jungs- oder Mädchen-Gefängnis und möchtest uns Deine Geschichte vor oder hinter der Kamera erzählen? Du kannst uns zeigen, wie es WIRKLICH im Knast abläuft? Dann melde dich und werde Teil unseres neuen Formats!
---
Important information for your application
Questions should be answered as precise as possible
Picture(s) should be up to date. Please do not use photo filters - we need authentic pictures for our casting work
Video(s) do not have to be professional. It's enough if you take the video with a smartphone in good resolution. Make sure it's bright enough & the light comes from behind the camera. Always use landscape format when filming & avoid background noise. Ensure you can be seen and understood.
Picture Requirements
Picture #1

Foto von dir
Video requirements
Video #1

Erzähl' uns, wer Du bist!
Answer the following questions:
Wann warst Du im Gefängnis?
Wie lange war Deine Haftzeit?
Warum hast Du im Knast gesessen?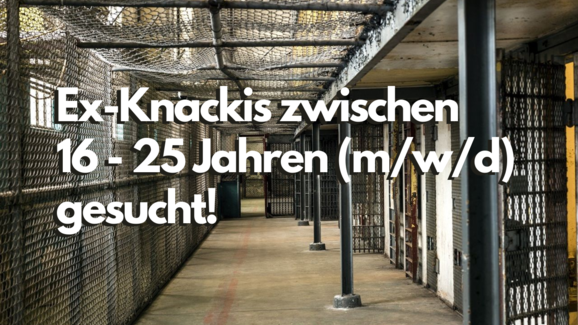 Project Requirements
Age

16 – 25