Unter einem Dach
Unter einem Dach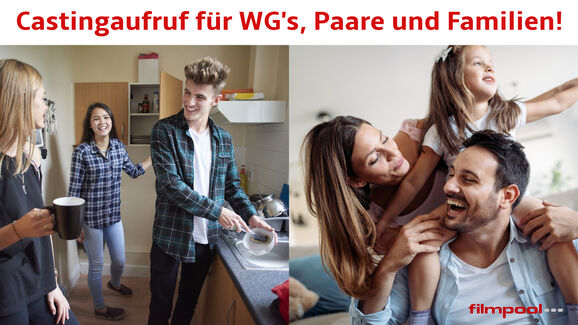 Ihr stammt aus ein- und demselben Haushalt?
Ihr lebt als WG, Paar oder Familie zusammen unter einem Dach?
Ihr habt Lust gemeinsam als Darsteller, Komparsen oder Statisten vor der Kamera zu stehen?
Dann suchen wir genau EUCH!
---
Picture Requirements
Picture #1

Du

Picture #2

Deine "Mitbewohner"
Video requirements
Video #1

Zeigt uns, wer Ihr seid!
Answer the following questions:
Wohnt Ihr als WG, Paar oder Familie zusammen?
Mit wem aus Deinem Haushalt möchtest Du zum Casting kommen?
Important information for your application
Questions should be answered as precise as possible
Picture(s) should be up to date. Please do not use photo filters - we need authentic pictures for our casting work
Video(s) do not have to be professional. It's enough if you take the video with a smartphone in good resolution. Make sure it's bright enough & the light comes from behind the camera. Always use landscape format when filming & avoid background noise. Ensure you can be seen and understood.